Stylish large, square frame reading glasses in a deep Bordeaux red.
If you like glasses that make a statement but are still lightweight, Have A Looks' sturdy 'Mood' frames are the right ones for you. Large but light, with an excellent fit and a shape that suits almost anyone, these reading glasses are both elegant and feminine.
The glasses come with a free felt case (worth €6).
Please note these are strength +2 
(I know the picture says 1.5 but it is just an example images)

All Have A Look reading glasses are unisex, they have flexible arms for a comfortable fit, durable polycarbonate frames and aspherical acrylic lenses, creating a light, slender and elegant look, even for lenses of higher strength.
All metal components are of course nickel-free.

A:
13,9 cm
B:
4,2 cm
C:
5,4 cm
D:
13,7 cm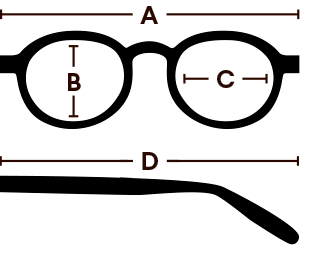 When it comes to common, age-related long sight, we humans are relatively similar and, broadly-speaking, the table below will provide a good guideline:

40 years: +1
45 years: +1,5
50 years: +2
55 years: +2,5
60 years: +3

If you are in any doubt, you can always have an eye test at an optician's. Some opticians will test your eyes for free, while others will charge.